The 5 Best Resistance Bands of 2023
Our pick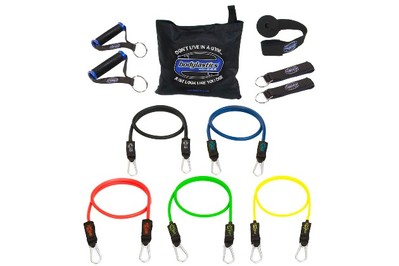 Each tube in this user-friendly, five-band kit is reinforced with an inner rope meant to increase safety.
The Bodylastics Stackable Tube Resistance Bands have built-in safety guards not seen in any other bands we tested: Woven cords tucked inside the tubes are meant to prevent overstretching (a common reason why bands break), and should also avert a rebound snap if a tube splits. In addition to five bands of increasing resistances (which can be used in combination to provide up to a claimed 96 pounds), the set includes a door anchor for creating points at various heights to pull or press against, two grippy handles, and two padded ankle straps. This is a pretty common setup, but we found the Bodylastics kit to be overall higher quality than the competition, and the company is one of only two we considered that sells additional tubes in higher tensions. This five-band kit is easy to use and comes with a detailed instruction manual, including links to free exercise demonstration videos, as well as subscription-based workouts on the company's website and app.
Runner-up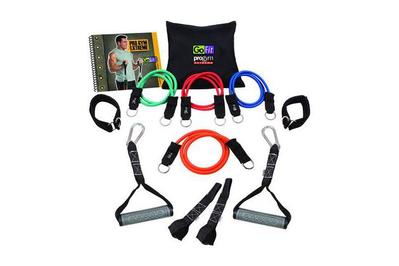 This four-band kit is well-made, with a nicer-than-most instruction manual and storage bag, but it lacks the tube-reinforcing cords of our pick.
If our pick is unavailable, we recommend the GoFit ProGym Extreme. This kit includes four interchangeable tube bands of increasing resistances that can be used in combination (totaling a claimed 140 pounds), plus two rubberized handles, two padded ankle straps, two door anchors, a spiral-bound manual, and the best storage bag we've seen to hold it all. GoFit's tubes aren't reinforced the way our pick's are, and the company offers fewer training materials. We liked that GoFit includes two sturdy door anchors to our pick's one, as it means you don't have to move the anchor as often between exercises.
Upgrade pick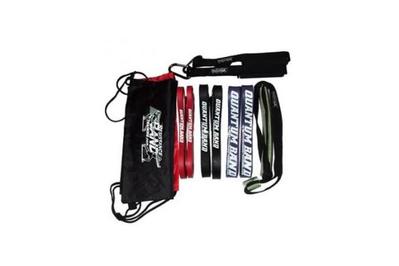 Including four superbands plus attachable handles and an anchor, this set is ideal for those who frequently train using resistance bands.
If you use resistance bands as your primary strength training tool, consider the Resistance Band Training Economy Fitness Package. Trainers we consulted universally chose this as their favorite kit. Instead of tubes, its four superbands—two each of two resistance levels—are large, continuous rubber loops that are more durable and longer-lasting than most molded tubes. The kit comes with two foam-covered handles, which can be clipped onto the bands to give them similar utility as a tube set, plus a versatile anchor that you can use either in a doorjamb or looped around a stationary object (say, a fence pole) for training indoors or out. The bands alone can be used for assisted pull-ups or for adding resistance to some exercises. These bands provide more resistance than most tubes, and can be stacked for even more tension. The kit includes one 13-inch mini band and a four-week starter workout program.
Also great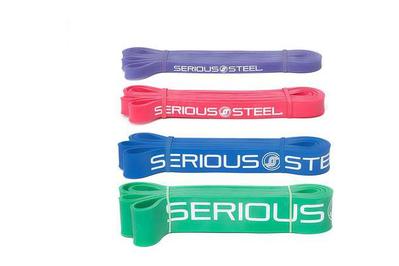 This set is ideal for assisted pull-ups and other exercises.
Serious Steel Assisted Pull-Up, Resistance, and Stretch Bands are continuous latex loops rather than molded tubes. Like most superbands, Serious Steel's are sold individually and in sets. The four-band set we tested included bands ranging from a claimed resistance of 5 pounds to 120 pounds, making them useful for assisted pull-up progressions as well as for stretching and adding resistance to some exercises. Depending on your needs, you may find the largest band in this set less useful; in that case, we suggest you consider the less-expensive set of three. Although a paper manual isn't included, the 25-page PDF on the company's website provides plenty of instruction to get you started. Finally, the bands have a powdery feel that makes them less slick to grip than other superbands we tested.
Also great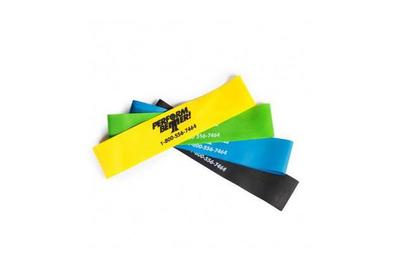 For rehab or prehab, these mini bands are of higher quality and offer greater utility than the competition.
With a diameter of 10 inches, compared with other mini bands' 12 inches, the Perform Better Exercise Mini Bands provide more tension than the competition throughout our test exercises' ranges of motion because their tension kicks in sooner thanks to the shorter length. For example, for exercises that require putting a band around both of your legs at the same time, the Perform Better bands feel more snug than the competition from the start, leaving little to no slack to take up in the exercise movement before the tension begins. Though larger people may have a little more trouble getting into them, the 5-foot-11, 235-pound trainer we enlisted was able to do it. And although the Perform Better set comes with four bands to most others' five, it is "missing" the lightest band, which on its own isn't that functional for most people.
link